There has been plenty of talk about how Dale Earnhardt Jr. winning the Daytona 500 is good for NASCAR. And, sure it's true, when the sport's most popular driver wins the sport's biggest race, nobody is arguing it's a good thing to see Dale Jr. in Victory Lane.
But there is one person that this victory may have been the most important for: Dale Jr. himself.
The win appeared to mean a lot of things to Junior as he took his backwards victory lap around the famed 2.5-mile oval after his first restrictor plate track win since 2004.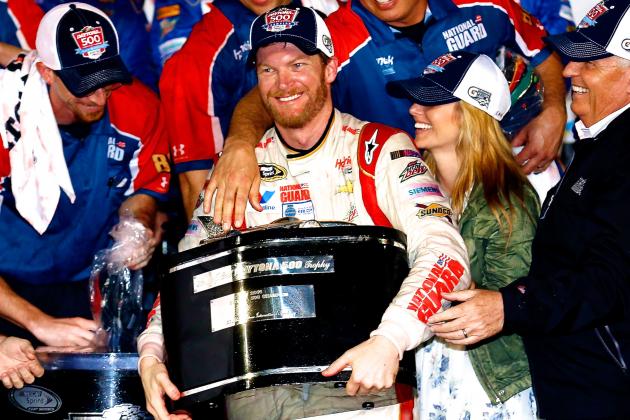 Winning the Daytona 500 again was more than a big deal for Dale Earnhardt Jr.
Junior appeared exuberant. Sure, any driver is going to be pretty happy after winning the Daytona 500. But in Junior's case there seemed to be something extra in his emotion. As he waved to fans on the victory lap, it was as if he was saying I can't believe it took me so long get back here at the Daytona 500. Even Earnhardt himself admitted it was maybe better than winning his first Daytona 500 back in 2004. He certainly seemed sincere in the aftermath in victory lane, thanking anyone who had anything to do with the win, including giving every one of his crew members a hug.
Maybe, too, this victory was a large weight lifted off his shoulders. Junior has faced the most pressure of any driver on the circuit in recent years. And probably a lot of it, not of his own doing. Just having that name, Dale Earnhardt, brings about immeasurable expectations and hopes from the legions of Earnhardt fans who cheered for his father. Junior has said in the past that he likes to win because he doesn't want to disappoint his large fan base. So, somewhere inside him, you know he didn't like letting his fans down.
As if that wasn't enough, there then was his move from Dale Earnhardt Inc. Racing to Hendrick Motorsports back in 2008. Sure,he did bring some of the pressure on himself after moving to the best team in the sport. But maybe then, he just didn't know how to handle it. His struggles had been minimal at that time, but it was probably as surprising to him as everyone else that he had won just two of his last 198 races, both at Michigan, before winning at Daytona Sunday.
In a sport where big-time sponsors are crucial to success, Junior is one of NASCAR's top marketing magnets. So, the move to Hendrick seemed like a natural fit, but Junior doesn't want to go down as just a walking ATM machine for the race team.
Then too, you can't underestimate what losing a father in tragic accident does to a young man either. Junior was 26 when his father was killed in a crash on the final lap at Daytona on Feb. 18, 2001. Sure, all of the drivers know in the back of their minds somewhere that mortality can tap them on the shoulder in the next three-car pileup at any race track. But losing a father who knew just when to kick you in the butt or when to pat you on the back, there's no way to measure how much that means. It's not unusual for a person to take years to recover from losing a father in a sudden accident. It's difficult enough to deal with that in private, and Junior, likely once again feeling obligated to his loyal fans, sometimes had to figure out how to get through another day in public.
Yes, he gets paid a lot of money to do what he does and he wouldn't have a job without those fans. Still, that doesn't make it any easier to deal with a such a tragic event. In fact, it might be harder to keep putting on that "everything is cool attitude" in public on days where he felt anything but that.
But it looks like Junior is feeling pretty confident now. He seemed to drive with the attitude Sunday of knowing he can win, rather than hoping he can win. I'd be surprised if that doesn't carry over into the rest of the season, even if he does have a bad race here or there.
And this is certainly the right time for him to have the confidence. Junior will turn 40 on Oct. 10
and that's kind of magic number when it comes to the age limit for winning NASCAR Sprint Cup titles. A driver at the age of 40 or more has won a Sprint Cup title just nine times out of the 65 championships awarded. And with crew chief Steve Letarte leaving at the end of the season to announce for NBC next year, Junior knows this may be his best chance for a title.
He knows it's time to go for it. And that may be the best attitude of all to have.