As a NASCAR fan I had always kind of liked Danica Patrick. I respected the fact that she was a woman entering into what has predominantly been a man's world and that she was not naive to that fact. However, in terms of wanting her to win a race, I thought it would be kind of cool, and a real big deal, if it happened. But you know, I wasn't really hoping against all hope that Patrick would somehow, someway, win a race somewhere, someday.
But after Richard Petty's comments earlier this week saying the only way Patrick would win is if no one else is in the race, well, I went from sort of hoping to Patrick could win, do really hoping she does win somewhere sometime this season.
Now, the rub here is that Petty might actually be right. However, he could have probably said the same thing about a dozen other drivers in the Sprint Cup series. But what Petty did here was a huge, make that a Daytona-like 500 huge, favor to Patrick.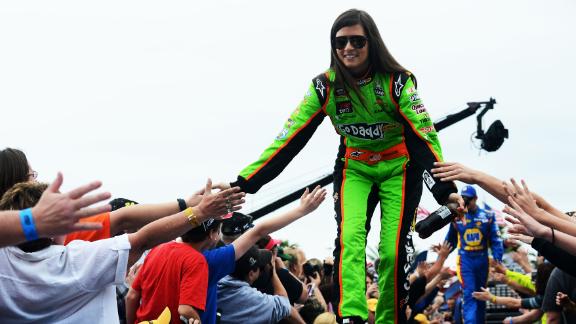 Danica Patrick hasn't won a NASCAR race yet, but she has won many fans.
While some fans view her as just a marketing machine to bring attention to the sport (they wouldn't be completely wrong there either), some fans also view her situation as a bit unfair to other deserving drivers (see Sam Hornish as exhibit A), simply because she is capable of bringing a major sponsor to a team. And in that case, she has been viewed by some as more of an underachiever rather than an underdog.
But when NASCAR's all-time race winner says there's no way Patrick can win a race, that it just won't happen period, then well, boom, now you have a legitimate underdog here in Danica Patrick. It's not like Patrick is short on fan support either, but if you like rooting for an underdog (and make no mistake here, The King says Patrick is an big underdog) then Patrick's fan base just grew some more. There's nothing more interesting in sports than seeing if somebody can accomplish something that one of that sport's legends says is impossible.
It would have been like Denver Broncos legend John Elway saying before the Super Bowl that there is no way Seattle quarterback Russell Wilson could win the game. Instantly there would have been a whole legion of fans who might not have cared a whole lot about the game, deciding to pull for the Seahawks. Elway did not say anything like that by the way.
However, the sports world is filled with legions of stories about how competitors have overcome the odds to achieve success. You've got everything from NBA legend Michael Jordan being cut from his high school basketball team to the 1969 New York Mets going from the league's laughing to stock to World Series champions.
And as far as reaction to the seven-time champion Petty's comments, I'm not sure which one I liked better. It was Patrick's calm and collected response of saying everyone has a right to their opinion (she is smart enough to know not to get into a back and forth with The King), or her team owner Tony Stewart saying Friday that if Patrick does win a race, she should take the checkered flag and give it to The King (that's the G-rated paraphrase there). Stewart did say that he would prepare equal cars for Patrick and Petty and allow them to have their own race. Petty said Friday he would do that, but it seemed doubtful that a match race would actually happen.
What's a bit ironic here, too, is that Petty and Patrick do share a common trait. They both have and still do treat their fans with great respect. There are countless stories of how Petty always signed autographs and he still does that today. Patrick too is accessible to fans (though we all know this is a different time than the pre-1990s) and her ability to handle pressure situations in front of the media is something that cannot be underrated.
But whether Patrick will win or not in Sunday's Daytona 500, or sometime this season, no one can say for sure, unless you're The King. You have to have great respect for Petty, and you have to listen to his opinion just because of who he is and what he's accomplished in the sport. But this is one time I wouldn't mind seeing him proved wrong.
Daytona Picks
Here's a look at my top five picks (four favorites and an underdog) for Daytona. Matt Kenseth, Denny Hamlin (both have looked strong this week), Tony Stewart (doesn't have to win this race one of these years), Dale Earnhardt Jr. (even though he last won a restrictor plate race in 2004), and my sleeper pick this week is AJ Allmendinger.